Effortless performance
Sample extraction and analysis are fully automated.
The CLAM-2040 performs it all automatically: dispensing the sample onto the specialized filter vial, adding reagents, shaking, heating, filtering and transferring the extracted sample to the LCMS system autosampler.

Easy to use and to maintain. Reduced workload for operators.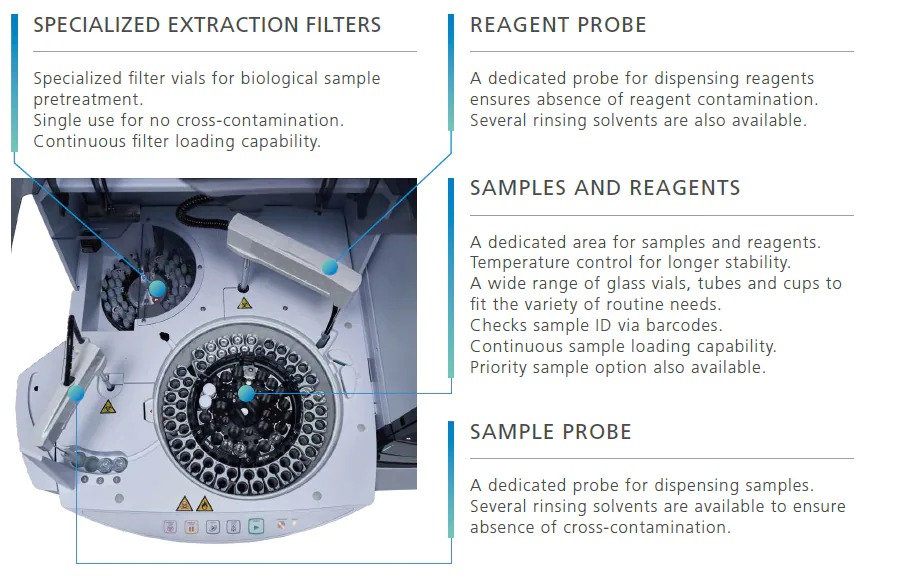 Containers for liquid waste and filter waste reduce the infection risk and ensure operator safety. Easy access to all system automated parts, consumables, and waste also allows for easy maintenance over time.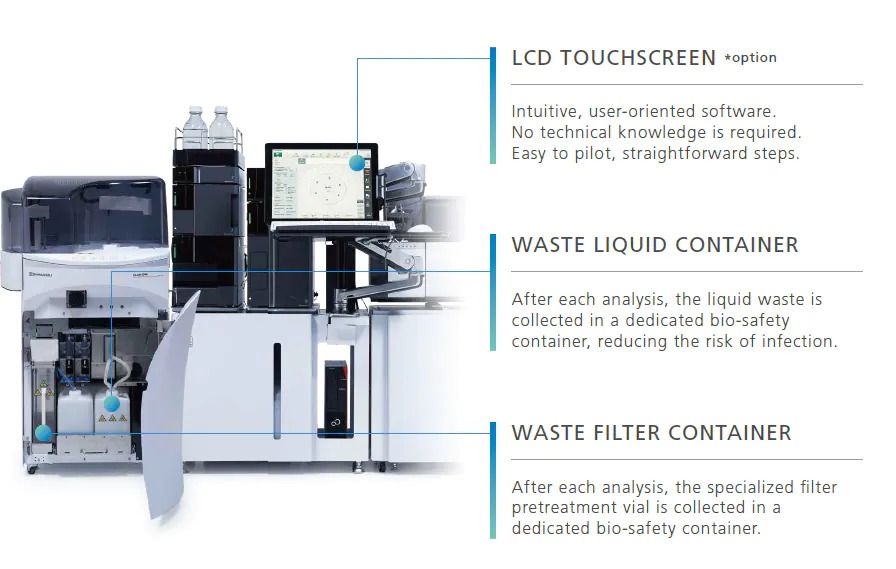 An intuitive, user-oriented design for greater comfort in the work routine.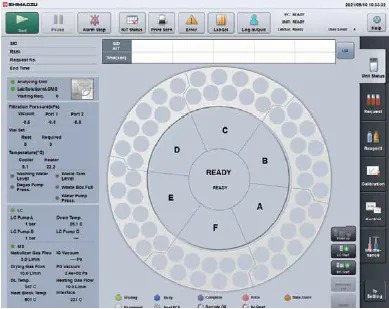 Intuitive software
Easy to pilot with no need for expertise nor training,
Easy to optimize and modify existing methods,
Easy to parameter your own methods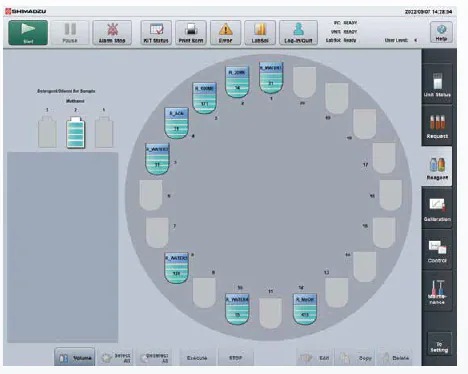 Easy reagent management
Reagent vials of 3 different volumes for maximum adaptability and flexibility : 1.5 mL, 6 mL,or 12 mL,
Free configuration of reagents (commercial, LDT),
Easy to configure your own methods.
Clear display of available reagents and remaining usage count,
Automatic detection of missing reagent before starting analysis.
No technical knowledge is required to operate the system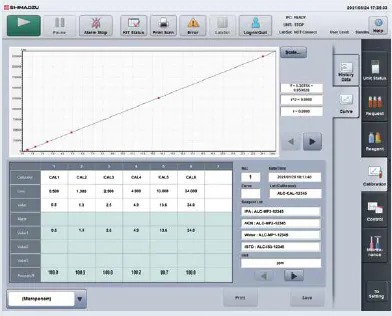 Easy Data Review
Easy visualization of calibration results,
Easy visualization of Quality Control results,
Data alerts when results are out of specification,
Easy review of sample quantitative results,
Direct communication with LIS for data reporting.
Easy to pilot, with straightforward steps, for rapid analysis starting.

Simply scan your sample ID using the barcode reader, select the analysis method, and press start. The CLAM-2040 will perform the next steps automatically.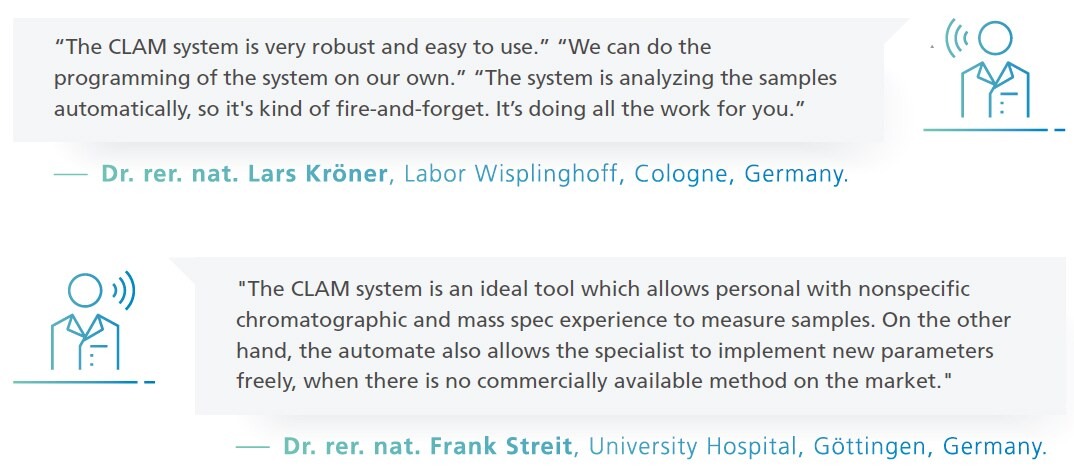 Standardized workflow
Sample preparation overlap: one result every 2.6 min in an optimized workflow.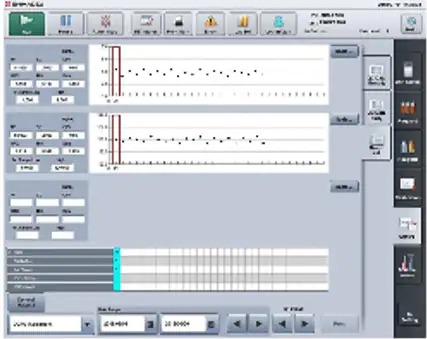 The latest quality control functionalities, including alerts.
Reduces variability in sample results, thanks to the absence of manual steps.
Prevents operator errors during the sample preparation procedure.
Lowers the risk of infections, improving the safety of work place safety.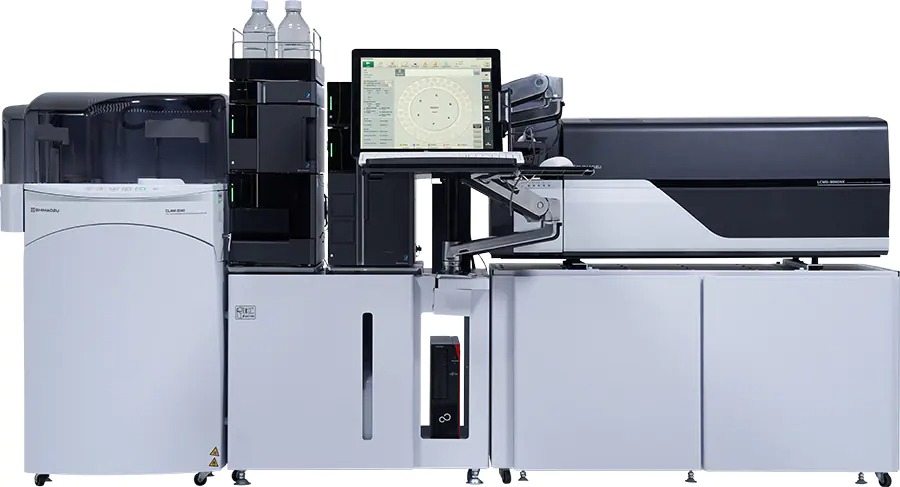 Operational productivity
Improved overall efficiency : higher throughput at a lower cost.
The CLAM-2040 and LCMS instrument accompanies you on most of the analytical workflow and improves your overall throughput by drastically reducing the sample preparation time. Additionally, the CLAM-2040 has the capability to prepare up to 3 samples simultaneously to further optimize your routine. While the manual or semi-automated sample extraction will deliver one analysis result every 12 to 60 min, the CLAM-2040 and LCMS, in optimized conditions, will deliver up to one analysis result every 2.6 min.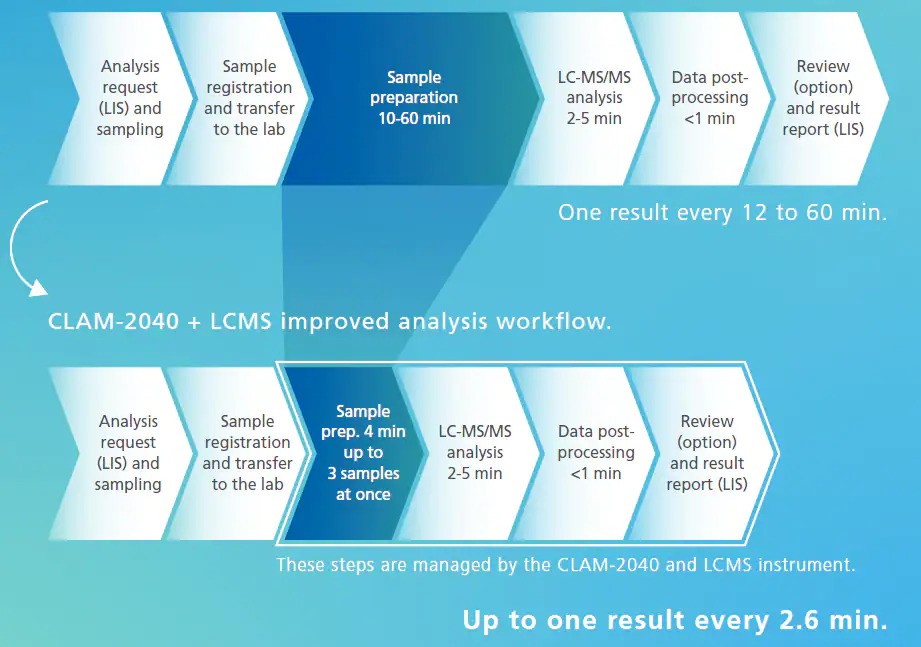 Automation enables LCMS analysis to be performed any time, any day.
Run samples at night and weekends. Add samples and consumables continuously with the option to submit priority analysis requests for urgent samples.
No compromise. High efficiency and high comfort.
Improved efficiency. Higher throughput at a lower cost by reducing manual operations. Open access system with no need for intensive user training (meaning no additional cost).
LCMS technology enables multiplex analysis.
Associated with the CLAM-2040, LCMS technology enables you to analyze several compounds simultaneously, leading to time saving and overall cost reduction.
Capability to connect to your laboratory information system (LIS).
Bidirectional communication (HL7) with your laboratory information system (LIS) enables to submit analysis request from the LIS and to receive result report in LIS after analysis.
Higher user comfort.
Decrease of manual operation makes the workflow more comfortable for the user. Controlled safety creates peace of mind, and the intuitive software makes it effortless to run samples.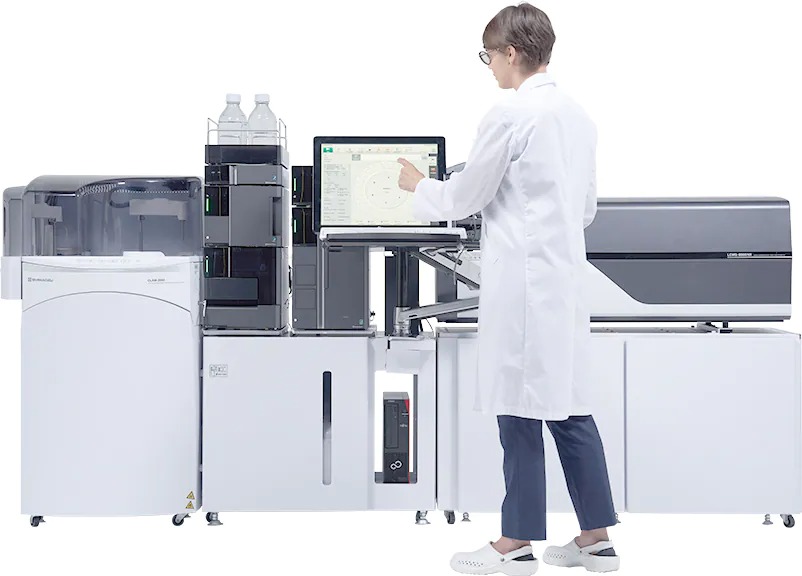 Flexibility
CLAM-2040 is the unique flexible LCMS automate.
Shimadzu has always attached great importance to providing the best solutions, while maintaining the highest possible flexibility for the operator, and providing products of great robustness. These key advantages are at the heart of our developments in all our products. Here too, the CLAM-2040 comes with high flexibility and gives reliable results, maintaining confidence over time thanks to its high robustness.
Use any application of your choice.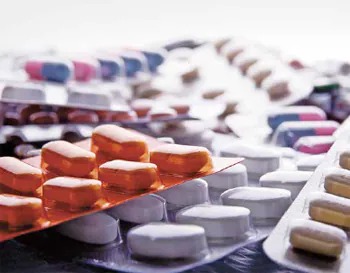 Compatible with a wide range of Shimadzu methods,
Supports Shimadzu databases for toxicology (TQ or high-resolution Q-TOF),
Supports Shimadzu Metabolites Method Package Suite, Alsachim reagents can be used,
Third-party reagents can also be used,
Also supports your own laboratory developed tests.
Freedom to change.
Methods can be optimized and modified,
New methods can be freely added, with no need for Shimadzu intervention,
Creating your homebrew method (LDT) is possible at any time.
One automate, unlimited possibilities.
Freedom to choose your LCMS configuration and to evolve it (see hereafter details),
Additional purifications available, such as online solid phase extraction (SPE),
Various samples and reagents containers available to meet the diversity of routine needs,
The LC-MS/MS system can also be used independently.
From the blood tube, the CLAM can perform the extraction and LCMS analysis, automatically
Full evolution potential
Free to evolve your LCMS technology at any time.
To meet your required sensitivity, you are free to choose your LC-MS/MS system by selecting one of our triple quadrupoles, from LCMS-8040 (not shown below) to LCMS-8060NX. Your needs evolve? You can change your MS system at any time. For your most exigent screenings, high resolution is also at your reach with our time-of-flight systems (QTOF). These options keep your flexibility at maximum.
Freedom to choose your LCMS TQ configuration and to upgrade it in the future.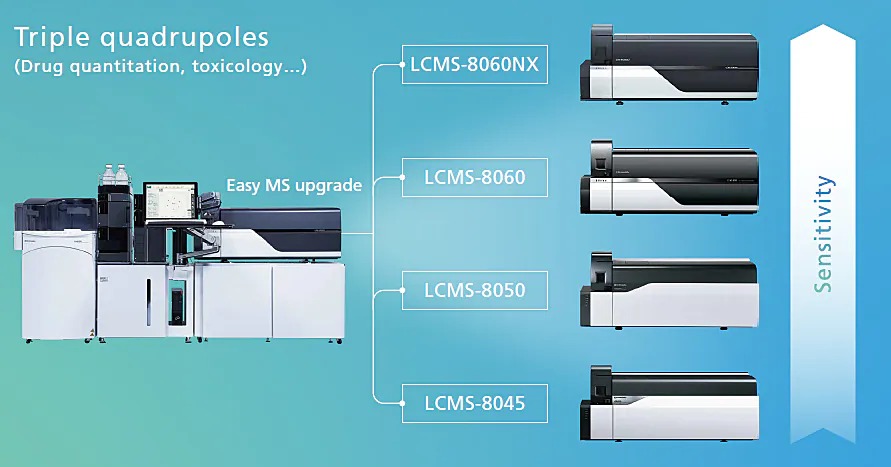 High resolution LCMS is also available (Q-TOF), facilitating large screenings.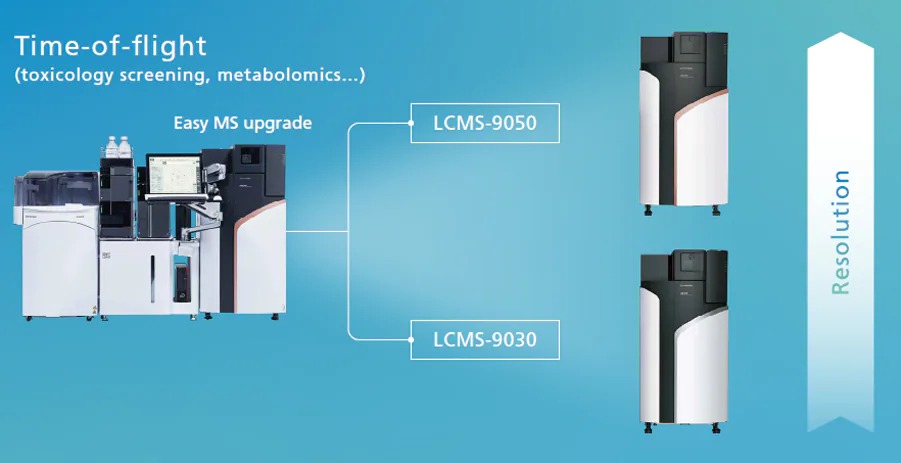 Innovation
Create a laboratory ready for tomorrow's transitions with no human intervention between the conveyor and the result.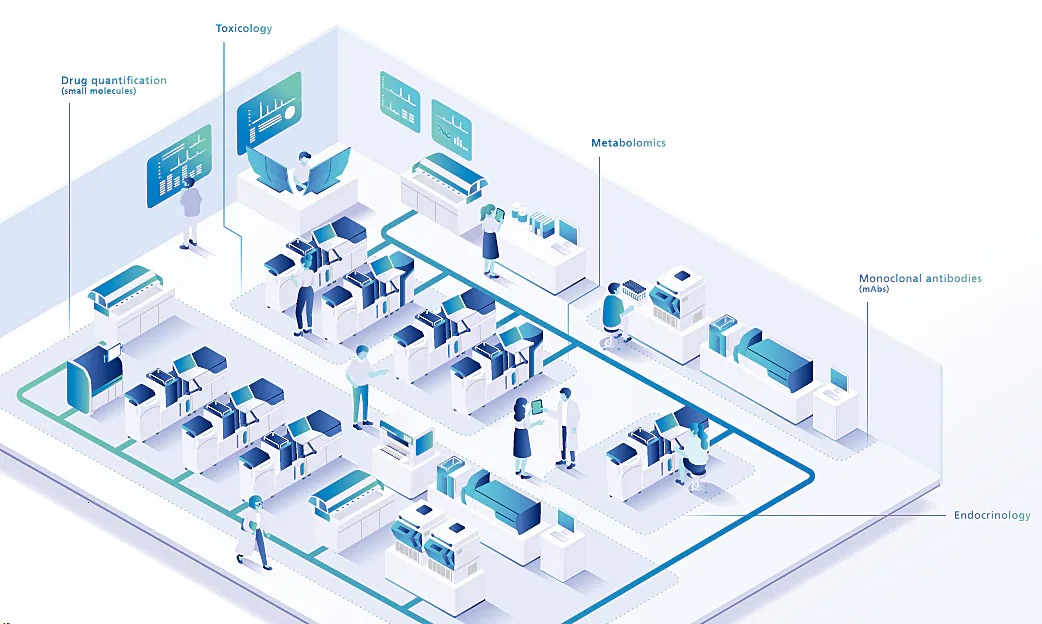 Lead the way to the future of the clinical research, be a pioneer.