Simple Design Ionization Units
In addition to the standard ESI ionization unit, optional APCI and Dual Ion Source (DUIS) probes are available for the LCMS-9030 to meet various analytical needs. Shimadzu's DUIS offers an efficient combination of ESI and APCI ionization capabilities.
ESI (standard)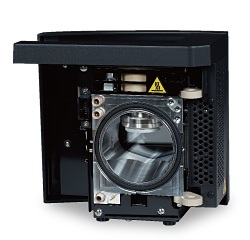 APCI (optional)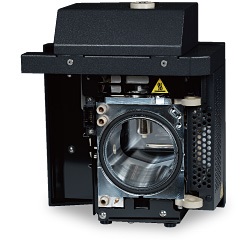 DUIS™ (optional)
The dual ion source continuously performs both electrospray ionization (ESI) and atmospheric pressure chemical ionization (APCI).
Calibrant Delivery System (CDS)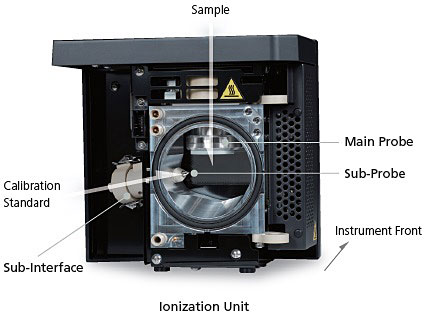 By incorporating this CDS, calibration standards can now be introduced via a separate ionization probe that functions independently from the main probe. This optional sub-ionization unit is installed in the main probe housing and is available for all probe types (ESI/DUIS/APCI). By having two probes in one system, high-concentration calibration standards can be introduced only when needed without switching flow lines, and are kept in isolation from the sample stream, eliminating contamination.
Micro-ESI 9030 Micro-flow Ionization Unit
Shimadzu's Nexera Mikros microflow system combines the sensitivity improvements you expect from a low-flow system with the ruggedness of HPLC. Designed for optimal sensitivity and ease of use, the Micro-ESI 9030 interface brings microflow analysis to the Q-TOF. Ionization efficiency and transfer have been maximized by the probe design, resulting in high sensitivity, stable operation, and minimal contamination. To minimize dead volume and diffusion, the Nexera Mikros features an innovative snap-in column locking system, the UF-Link™, allowing any user to correctly install a microflow column without disrupting the ESI spray needle position. Realize the benefits of microflow while enjoying the reliability of HPLC.