Analysis of Monoclonal Antibodies and Antibody Drug Conjugates (ADCs)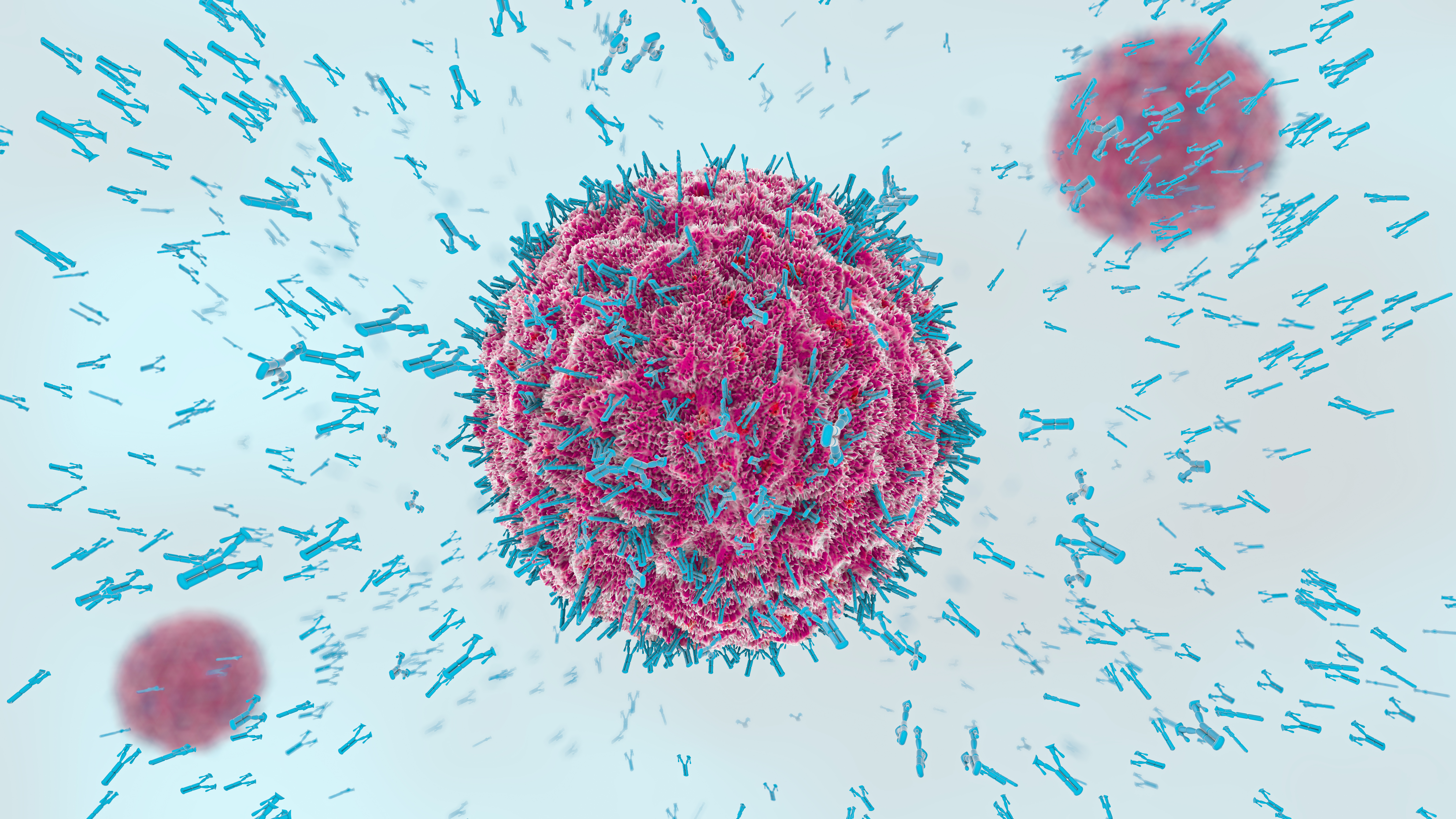 Monoclonal antibodies (mAbs) have emerged as revolutionary therapeutic agents for an array of human diseases. In addition to their large mass and complex structure, mAbs are varied in their origin, makeup, effector function and delivery, and therefore require thorough formulation development, including characterization, quantitation and preservation.
More and more special designed Antibody drug conjugates (ADCs) are under development as targeted therapy for treating cancer. ADCs combine the targeting capabilities of monoclonal antibodies with the cancer-killing ability of cytotoxic drugs.
Novel method of sample preparation for LCMS bioanalysis of monoclonal antibody in blood
nSMOL (nano-surface and molecular orientation limited proteolysis) is Shimadzu's proprietary, innovative technique that enables selective proteolysis of the Fab region of monoclonal antibodies. The nSMOL Antibody BA Kit is a ready-to-use reagent kit for collecting monoclonal antibodies from blood or other biological samples using immunoglobulin collection resin, and then performing selective proteolysis of the Fabregion of these antibodies via trypsin-immobilized nanoparticles. Variable region-derived peptides produced by limited proteolysis can then be quantified via MRM measurements utilizing a high-performance LCMS-8050/8060 triple quadrupole liquid chromatograph mass spectrometer.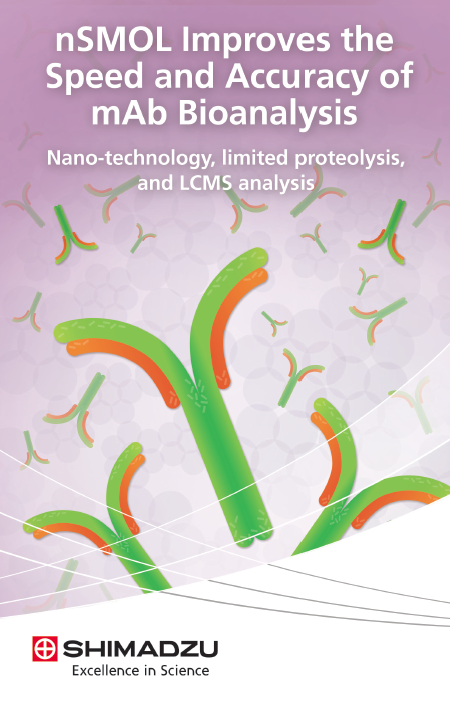 nSMOL
Novel method of sample preparation for lCMS bioanalysis of monoclonal antibodies in blood
Find out more about applications using the nSMOL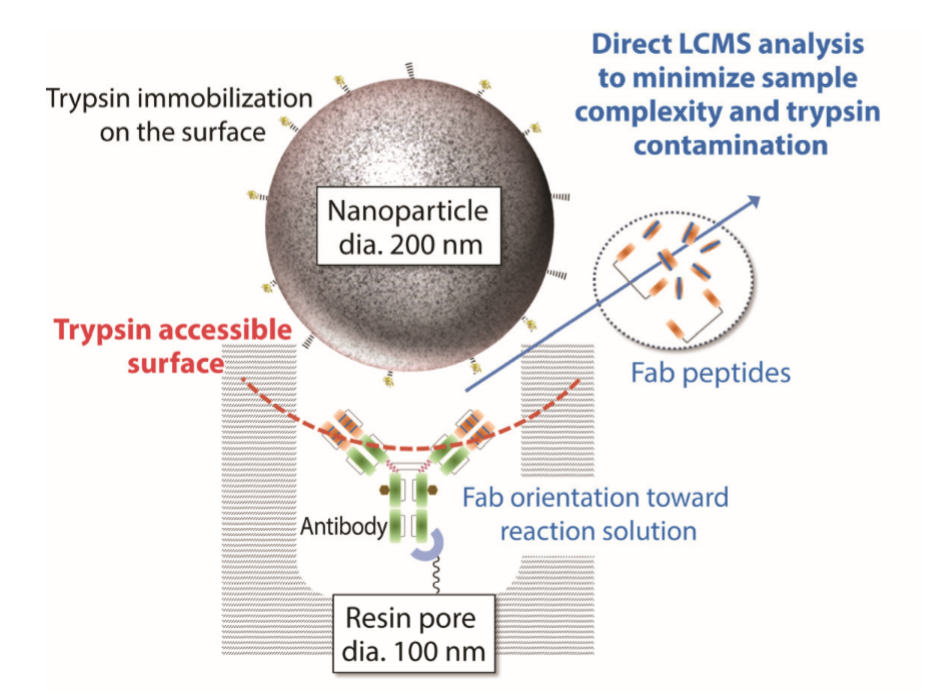 nSMOL is Shimadzu's completely new and breakthrough technology that enables selective proteolysis of the Fab region of monoclonal antibodies. This technique facilitates method development independent of a variety of antibody drugs and achieves a paradigm shift in the bioanalysis of antibody drugs. Furthermore, this is the only method with respect to antibody drugs that has fulfilled the criteria of "Guideline on Bioanalytical Method Validation in Pharmaceutical Development" for low MW drug compounds issued by the Japanese Ministry of Health, Labour and Welfare. Shimadzu also offers optimization methods and protocols, and nSMOL can be applied to clinical research at various institutions.
LCMS Bioanalysis Solved with the nSMOL Method Pharmacokinetic information provides some of the most fundamental indicators. The effective drug discovery is supported by the overall pharmacokinetic profile such as drug efficacy and toxicity. While the enzyme-linked immunosorvent assay (ELISA) has been the current way to measure blood concentration until now, there are essential issues due to the effects of cross-reactivity and inhibitory substances. On the other hand, mass spectrometry may be able to solve these issues because of structure-indicated analysis. Nevertheless, mass spectrometry has several issues. In particular, direct quantitation analysis (top-down proteomics) of complex matrices, such as plasma, is not suitable for repeat analysis because the ESI interface cannot be maintained due to the large excess analytes.
LCMS Bioanalysis of Antibody Drugs Using Fab-Selective Proteolysis nSMOL – Trastuzumab analysis –
LCMS Bioanalysis of Antibody Drugs Using Fab-Selective Proteolysis nSMOL: Part 2 – Bevacizumab analysis –
LCMS Bioanalysis of Antibody Drugs Using Fab-Selective Proteolysis nSMOL: Part 3 – Nivolumab analysis –
LCMS Bioanalysis of Antibody Drugs Using Fab-Selective Proteolysis nSMOL: Part 4 – Multiplex Analysis –
LCMS Bioanalysis of Antibody Drugs Using Fab-Selective Proteolysis nSMOL: Part 5 – Instrument comparison of precision and accuracy –
LCMS Bioanalysis of Antibody Drugs Using Fab-Selective Proteolysis "nSMOL Method": Part 6 – Improvement of Reaction Conditions for Automated Analyses –
Microflow LC-MS/MS Analysis of Monoclonal Antibody in Human Plasma at ng/mL Level with nSMOL Proteolysis
More applications
Analysis of Glycopeptides of Monoclonal Antibody Using MALDI-7090 High-Resolution MALDI-TOF MS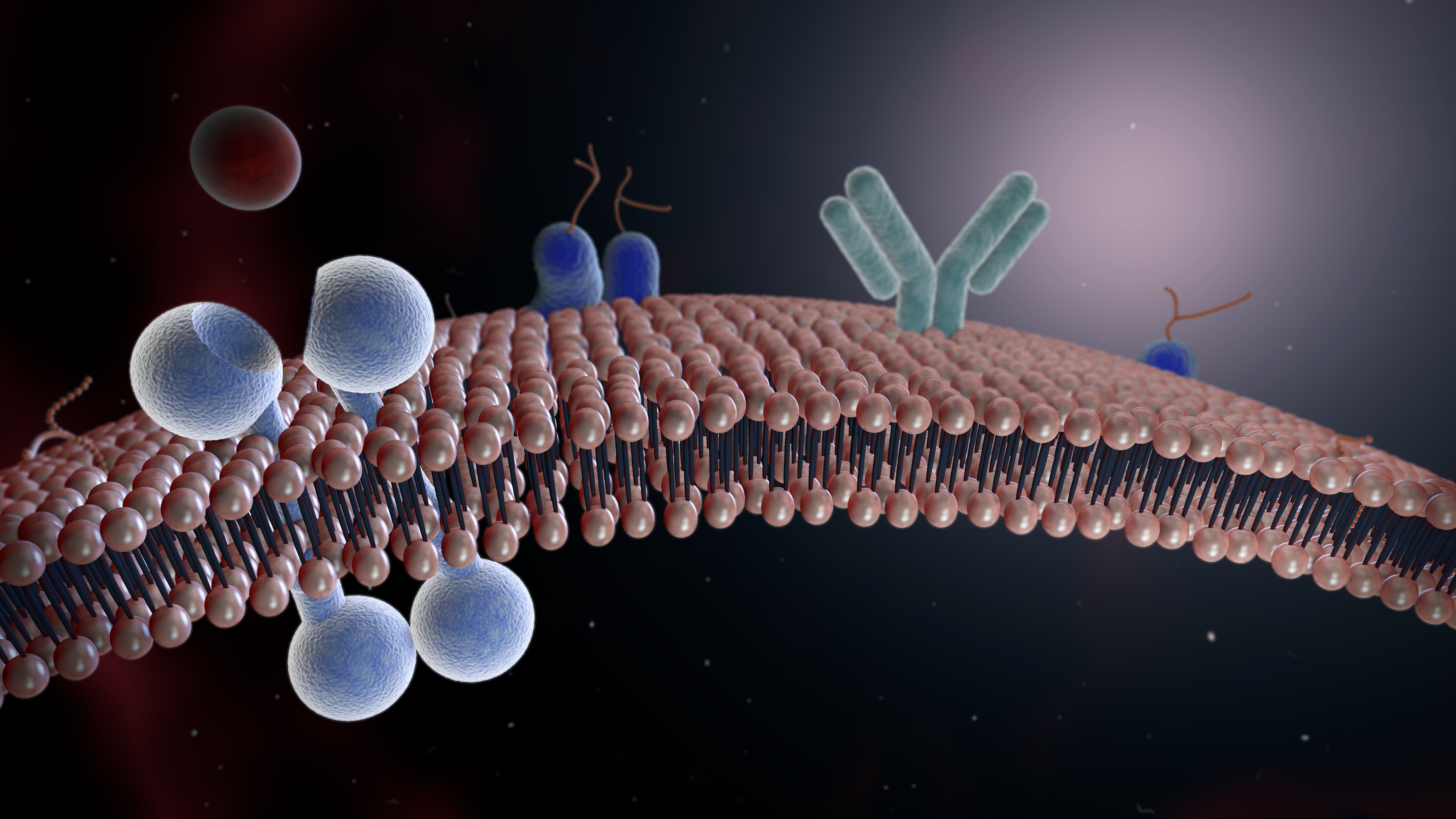 Antibodies that are utilized in biopharmaceuticals are often subjected to glycan modification. This glycan is a molecule with high structural heterogeneity consisting of intricately coupled monosaccharides, such as glucose and mannose, and that complex structure is known to play an important role in the functional regulation of proteins. However, information such as the complex structure of the glycan and the site at which the glycan is attached to the protein is not written into the gene beforehand. Rather, it is information that is formed based on the actions of many glycosyltransferases during the process of protein biosynthesis.
Analysis of N-Terminal Amino Acid Sequence of Monoclonal Antibody Using the MALDI-7090 High-Resolution MALDI-TOF MS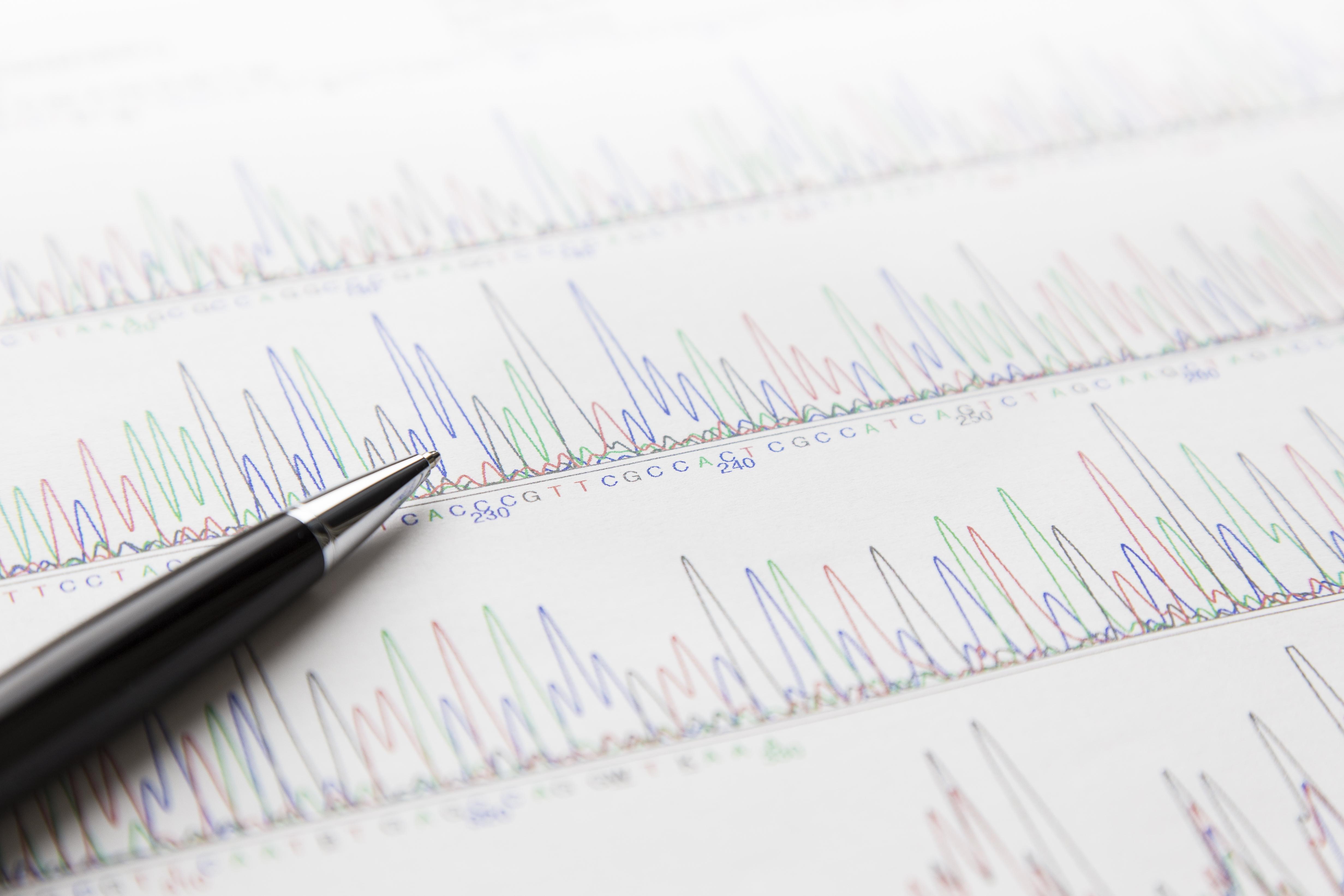 In the biopharmaceutical development of an antibody, it is known that heterogeneity may sometimes occur in the N-terminal or C-terminus of a protein. For example, there are cases where the terminal amino acid has been eliminated or modified, so it is very important to grasp such a change in structure to maintain the quality of biopharmaceuticals. Typically, when determining the amino acid sequence of a protein, a protein sequencer that utilizes the reliable Edman degradation method is used to determine the N-terminal amino acids one by one.
Simplified Mass Measurement of Chemically-Modified Antibodies: Determination of the Presence of the Number of Modifications Using a Linear Benchtop MALDI-TOF MS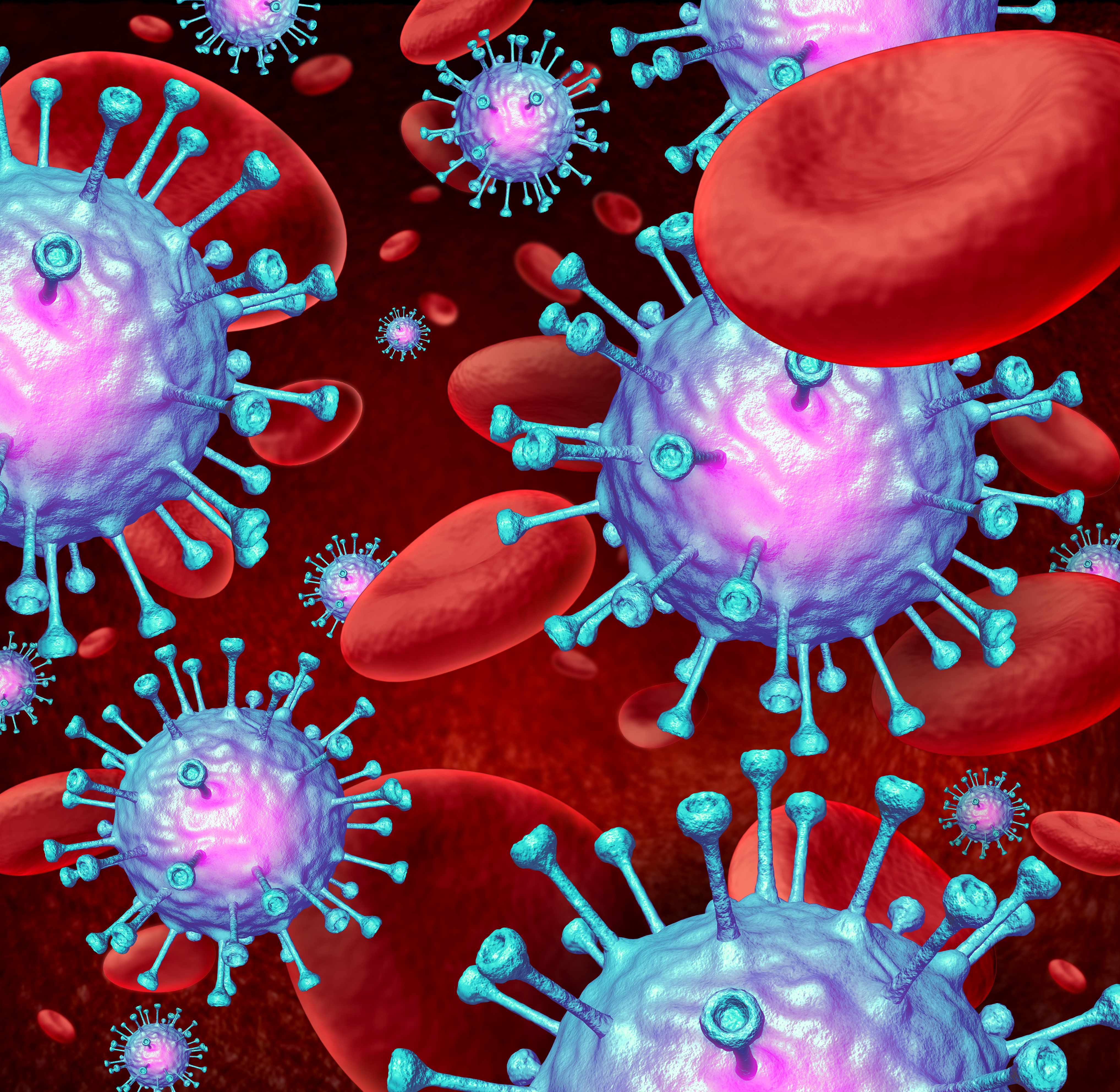 Antibody drug conjugates (ADC), a type of pharmaceutical composed of an antibody bound to a drug, appeared in the 2000s with the expectation they would serve as more effective anti-cancer drugs than previous small-molecule pharmaceuticals through the combination of the antibody's high selectivity and the availability of a smallmolecule drug. With a small number of products already available in the marketplace, the degree to which and where binding occurs are important characteristics to determine quality when compounds are artificially bound to proteins, as in the case of ADCs.
Analysis of Modification Site of Chemically Modified Antibody Using MALDImini-1 Compact MALDI Digital Ion Trap Mass Spectrometer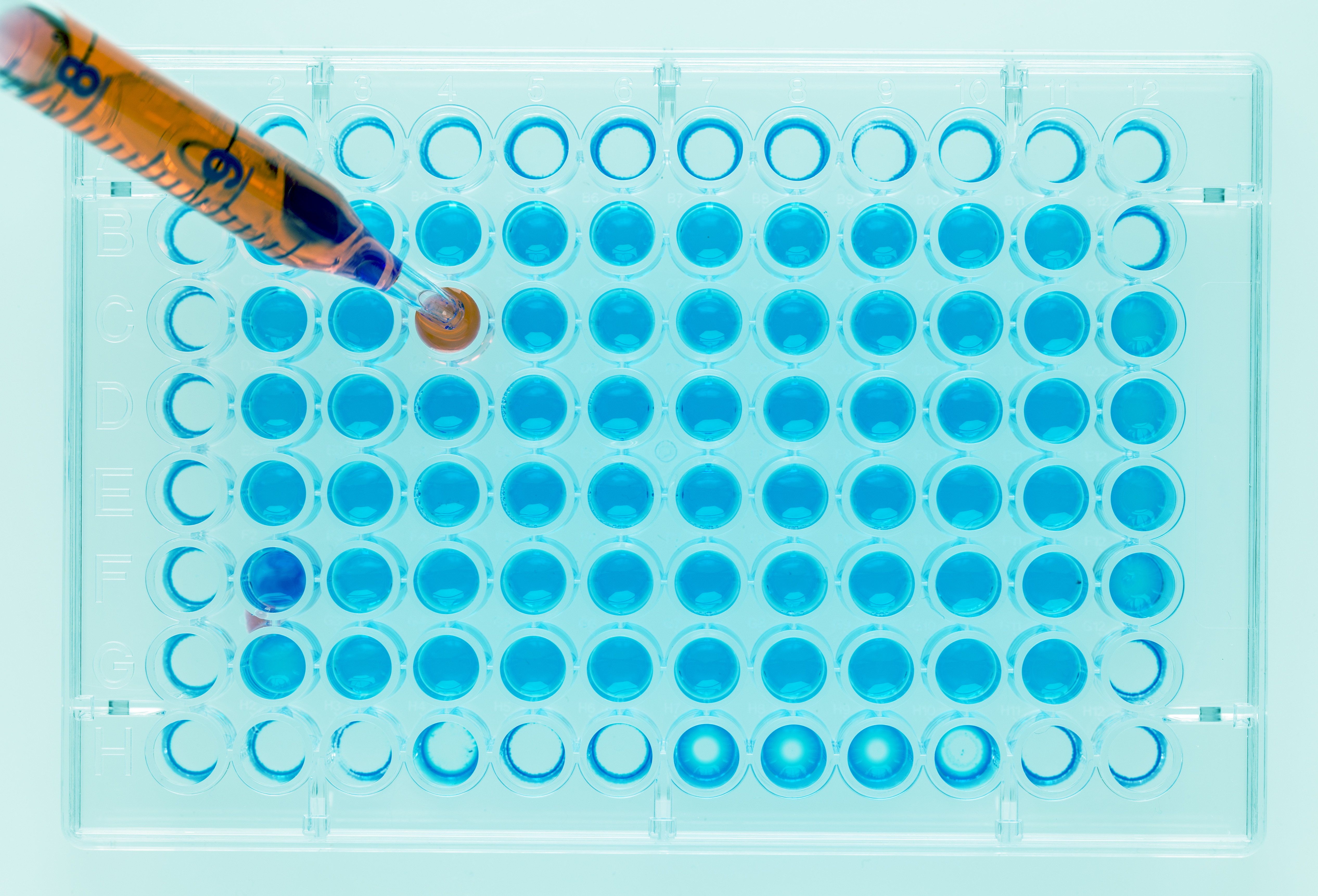 Antibody drug conjugates (ADC), which appeared in the 2000s, are a new class of anti-cancer drugs in which an antibody is bound to a cytotoxic drug. Because they combine the high substrate specificity of the antibody and the effect of a lowmolecular drug, ADC are expected to be more effective anticancer drugs than the conventional low-molecular drugs. When a different compound is bound artificially to a protein, as in the case of ADC, the binding degree of that compound and its binding site become one of the critical quality properties.
Development of MRM Methods for Monoclonal Antibodies Using Skyline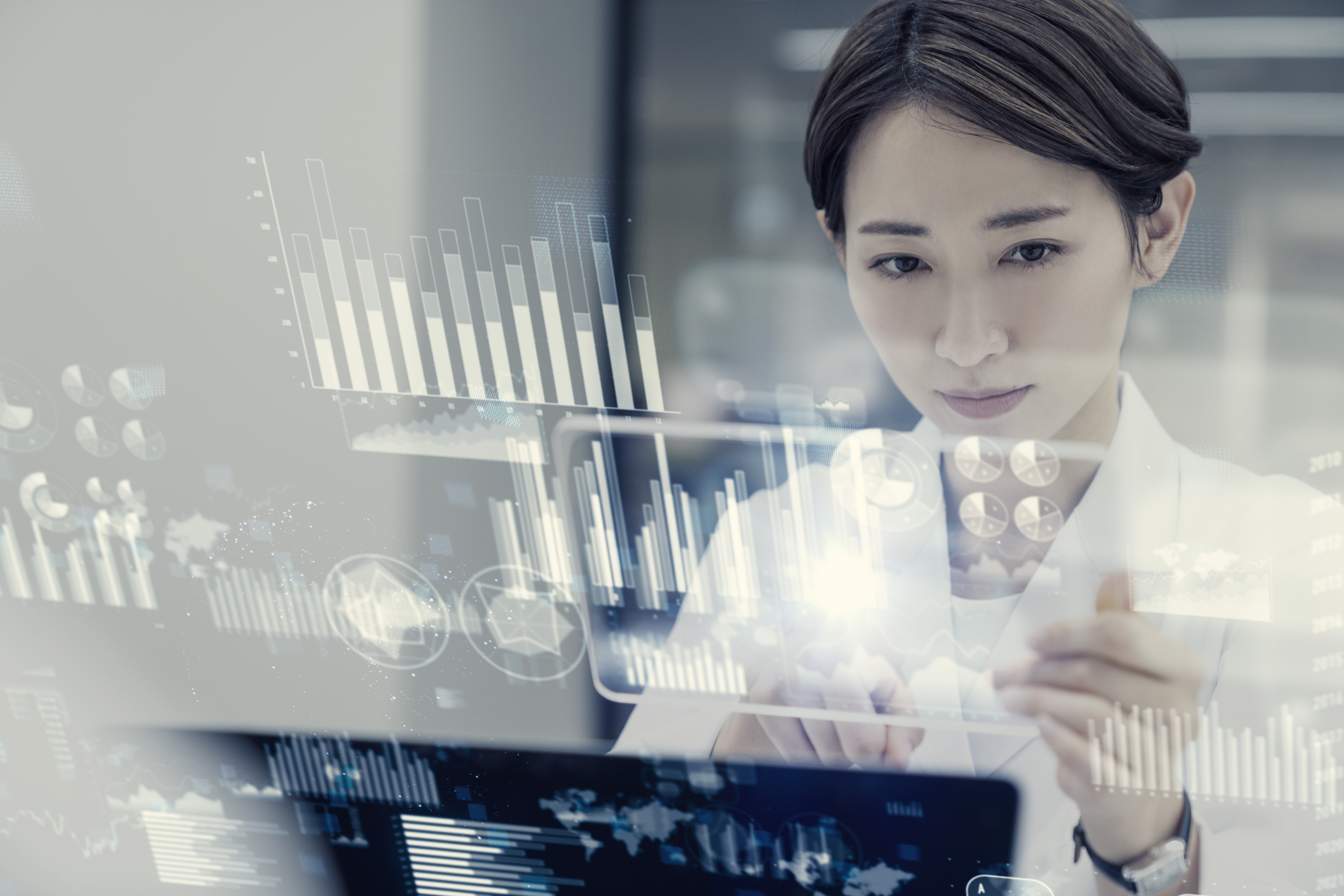 Monoclonal antibodies, or mAbs, have been used for over a decade in the treatment of a number of diseases but predominantly in the treatment of cancer and autoimmune diseases. Quantifying therapeutic mAbs in biological samples has been traditionally addressed by ligand binding assays (LBA's), however, there are major limitation in terms of extended method development times, reagent procurement, and matrix effects. LC-MS/MS methods are emerging as an alternative approach to LBA's and this paper describes the application of MRM methods to the quantitation of peptide fragments containing β-amyloid antibody (6E10) CDR's (complementarity determining regions).
Disulfide Bond Characterization of Monoclonal Antibody Using Q-TOF Mass Spectrometer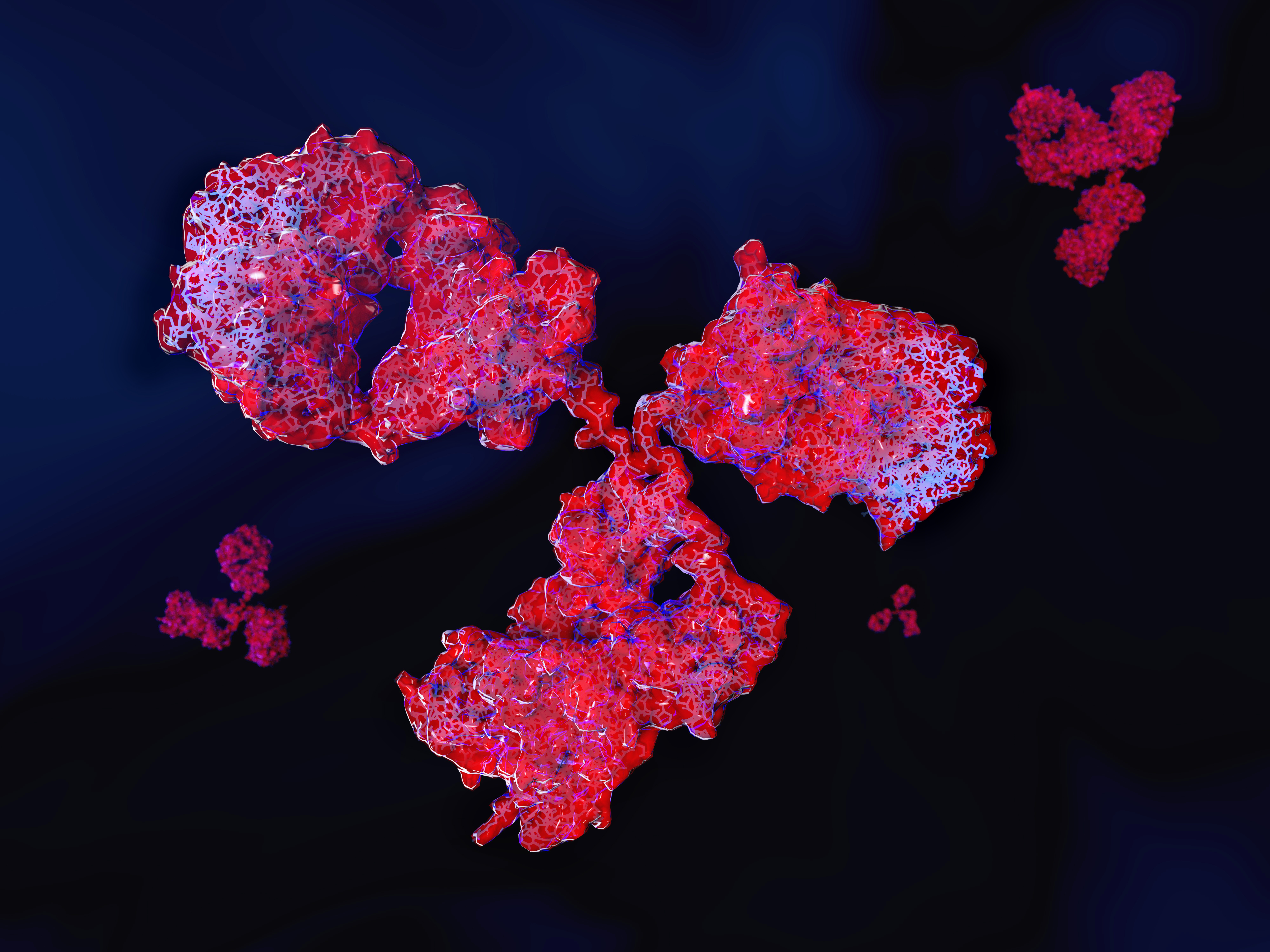 Monoclonal antibody is emerging as the fastest growing category of biotherapeutics with a wide range of therapeutic and diagnostic applications. Higher-order structure of mAb plays a critical role in the efficacy and safety. For example, the number of disulfide bonds and their positions are critical attributes (CQAs) for mAb, because incorrect disulfide linkage formation can cause a loss of biological activity or even can elicit an immune response from the host. Herein, we report a LCMS based method to precisely characterize disulfide bonds in mAb biosimilar by comparative analysis of non-reduced and reduced conditions.
Analysis of mAb Aggregates by Nexera Bio UHPLC with Shim-Pack BioDiol Size Exclusion Column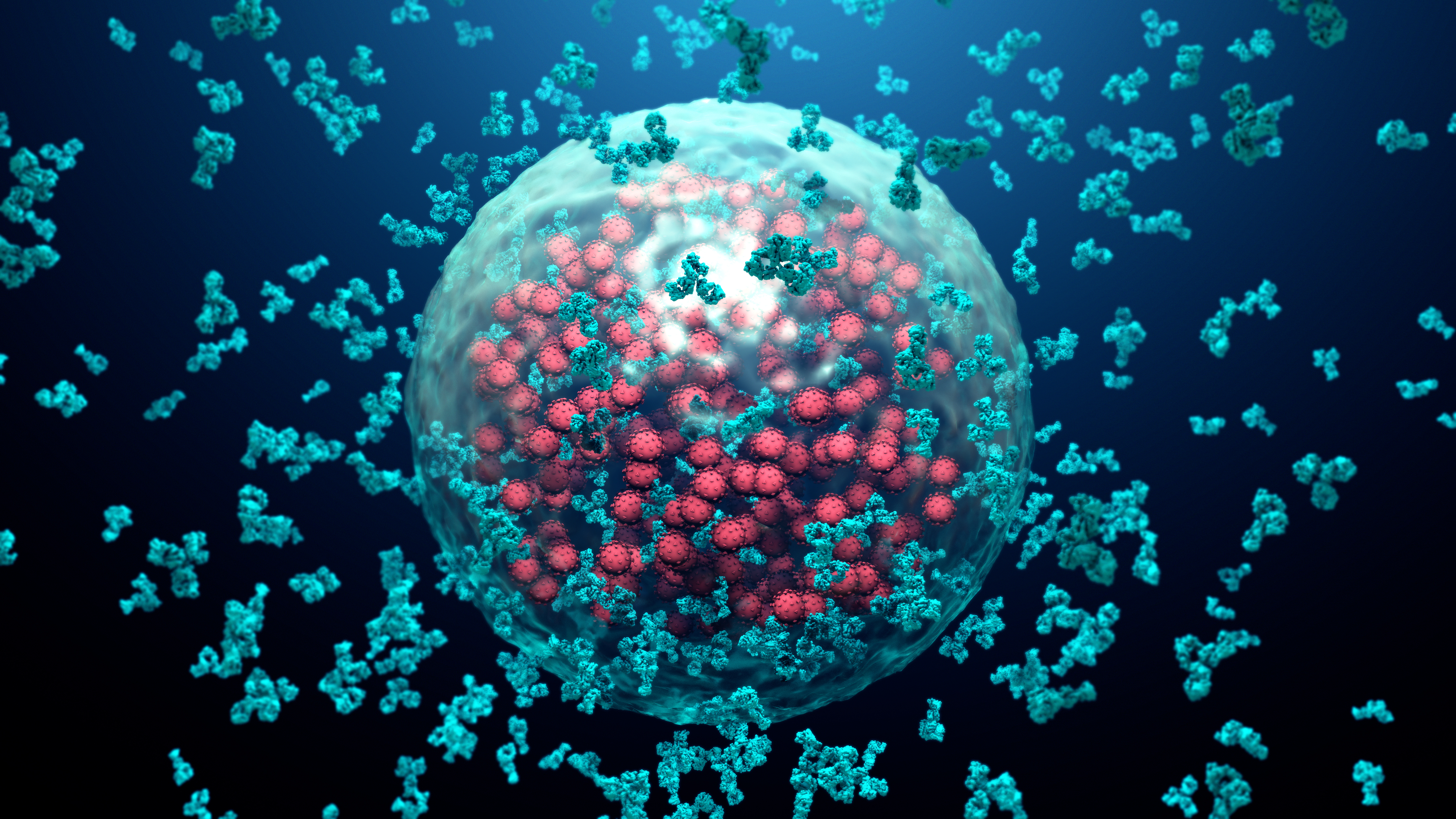 Monoclonal antibodies are important biologics for the treatment od cancers. The production of mAb biosimilar is challenging, because various variations may occur in upstream and downstream processing (DSP). Protein aggregation is one of such variations – a biological phenomenon in which mAb accumulate and clump together. Aggregation is a critical quality attributes (CQA), as the aggregates not only reduce the efficacy of mAb biosimilar drug, but also can stimulate immunogenic responses, leading to various adverse events in treatment. Thus, the accurate analysis of monomer, dimer and higher aggregates of mAb is required for developing higher quality therapeutics.
You would like to get more information about total solutions for antibody analysis?